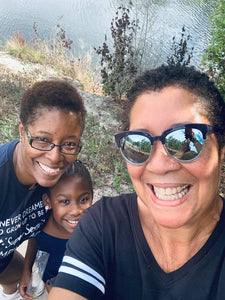 Camping During a Pandemic
Is it Safe to Camp During a Pandemic?
There is nothing like being cooped up all summer due to the coronavirus.  😜 The good news is scientists recommend getting outside while social distancing. 😃 As a camper, that's really easy.  However here are some things to remember if you choose to venture out.
Just about every state has cases of COVID19.  Don't become so relaxed that you forget that you're traveling during a pandemic.  We camped twice this summer and remembered to bring the following items:
Extra masks
Disposable gloves - To pump gas
Hand sanitizer
Disinfectant - A spray bottle with bleach and water
Plenty of paper towels - Great for wiping down the picnic table, countertops, and door handles
Our family ventured to Camp Lake Jasper in Hardeeville, South Carolina in June and Stone Mountain Park near Atlanta, Georgia in July.  In both cases, the front office check-in was contactless.  Should you have to visit the office or the General Store, you must wear a mask.  The playgrounds and pools were closed.  But people felt free enough to walk or ride their bicycles throughout the campgrounds.  Everyone was friendly by waving or saying hello from a distance.  
So don't give up on camping this summer.  Just remember to stay safe.  
---