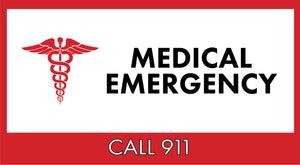 Safety Tip Series: Emergency Assistance Form
The anticipation of going camping is exciting! 
Reservations confirmed
Meals planned
Vehicle /Coach stocked
Tent and Accessories packed
Let's go CAMPING!  But how prepared are you should you encounter a medical emergency?  Have you taken into consideration if something happened to you or your travel companion(s)?  If you or your travel companion(s) were to get ill, would you know what to do or who to contact?  Aside from applying first aid and/or calling emergency services, what information can you provide to doctors and emergency technicians?
Having an Emergency Assistance Form can save time and reduce stress.  This form allows you to have at your fingertips emergency contact information, medications listed, allergies you have, and insurance information. 
Each club, group, and individual should complete this form and have it handy should you or your travel companion(s) need medical attention. I recommend placing this form in an area that is easily accessible.  I placed mine in the pouch behind the passenger seat. 
If you would like the form, email me at LittleBrownSquirrelInquiry@gmail.com.
Happy Camping!
---